JUNE 29, 2022
Expectations
My wife hates turbulence. If the plane is bouncing up and down she's gripping the seat and giving me that look.
Before we fly together, I wander over to the website Turbulence Forecast to see if we should expect a rough ride. If the answer is yes, I tell my wife that there will be a few bumps along the way. I set her expectations for the flight.
Does that help? Yes. She's expecting it, it's not a surprise. Guess what the worst moment is to tell someone that turbulence is no big deal? When it's actually happening. They're scared and you saying "hey, relax, no big deal" is accomplishing nothing. You have to prepare them for it.
It's no different for the stock market.
Let's set some expectations so from this moment forward, you know what you face.
Based on the history of the stock market you should EXPECT a selloff of:
-5% Three times a year.
-10% Once a year
-20% Every few years
-50% A few times in your life
These are going to happen to you, they happened to every investor along the way.
We can't avoid them because they are a lot like turbulence, they come out of nowhere. We can forecast it but that doesn't mean we know exactly when it will occur.
Behavioral Finance tells us that you can broadly think of your happiness as just "Reality minus Expectations". H = R-E. Said another way, are things going better for me than I thought or worse?
If you aren't expecting these selloffs to happen you get upset, reality smacks you in the face and your happiness plummets.
If you are expecting them, like my wife expects the bumps, you can deal with it in a more rational way. Still scary but expected.
2022 has been awful, like severe turbulence over the Pacific Ocean at 3am. Have there been any other times like these? Yep, how about 2020, 2018, 2016, 2011, 2008, 2002, 2001, 1987, do you want me to keep going?
My friend, money isn't free. You are not guaranteed stock market returns. In order to grow your wealth you have to pay a fee and that fee is fear, unease, and doubt like you are experiencing now.
Look, you don't need to make amazing buy and sell decisions to do well here, you DON'T. You just have to not blow it in moments like these.
Here is a 100% ironclad guarantee from BullandBaird: There will be more recessions, selloffs, and bear markets in the future. They will happen, it's inevitable.
You have to persevere, you have to get through them, because on the other side is landing at your destination.
MAY 25, 2022
Dealing with a Setback
Let me tell you a story of how bad of an investor I am.
In 2006 our son was born. We tried forever to have him and when he arrived, our family was filled with joy. Little did I know what was about to happen to the World.
On his first birthday, January of 2007, my wife and I took a chunk of our money and dropped it into a 529 account and deployed it 100% into equities. We were hopeful that when he turned 18 it would cover some portion of the gigantic bill that would come due.
On his 2nd birthday, January 2008, it had basically gone nowhere.
On his 3rd birthday, January 2009, that account had lost close to 30% of its value. Two months later it was down 50%. HALF. I HAD LOST HALF MY SONS COLLEGE ACCOUNT.
I was a relatively new Dad, working through the worst financial crisis since the Great Depression, and my tiny son's college account got nuked. Max pain my friends.
I had two choices: take my money out because I was scared or leave it be. I left it be, what else was I going to do?
On his 5th birthday it was back to breakeven.
On his 11th birthday it had doubled from my initial investment.
This year, on his 16th birthday, it was up 5x from my initial investment.
An account that was started at arguably one of the worst moments in history, that got cut in half along the way, was up 5x just 15 years later. Did I get lucky that this time frame was the 2nd best bull market ever? Sure. Also here's where I'll say "past performance is no guarantee of future results."
What's the takeaway from my setback? What's the timeless lesson that I'm trying to convey?
First, it's that you need a reason to be investing in the stock market. Whether it's college, or retirement, or a wedding, you need a purpose for your money otherwise you'll just run for the hills at the first sight of losses. "Make number go up" isn't enough.
Second, time frames are all that matters. Every single discussion about the stock market should start and end with "how long until you NEED this money?" If it's the next few years, then, in my opinion, it should not be in stocks, period. The stock market grows over the long run, that's why we invest in it. Long run…not short run.
Third, no one knows when this horrible market will end but we do know one thing: it will end. The average bear market (from top to bottom) lasts about 338 days. It might take less, it might take more, but that's as good of a way as any to think about it.
For some strange reason humans crave complex answers to questions when we know deep down that the simple answer is almost always right (and easy to do).
If you need to lose weight the simple answer is burn more calories than you consume.
If you need to get a good grade on a test, study more.
The simplest advice for investing is this: be more patient. If the market is down for whatever reason, don't cash in your losses to stop the mental anguish. Instead, be more patient, hold to the reason you are investing in the first place.
I know that's little solace as you stare at losses worrying about the future. But guess what, 2009 Michael also stared at losses and worried about the future.
I'm not promising you'll experience the same returns he did, I'm just telling a story from another difficult time (like now) and what I learned.
In the end, Michael of the past followed the simplest advice as the stock market came apart (as it has numerous times in history): be more patient.
And that made all the difference.
MAY 02, 2022
It's Not Different This Time
On Wall Street you'll often hear the phrase "it's different this time" to describe what's going on.
More often than not that statement is correct. There's a confluence of events that are impacting the market and you need to understand that each situation is unique.
Let's use right now as an example.
Our supply chains broke due to a pandemic, wages rose rapidly as people reshuffled their careers, we poured a bunch of money into the economy to stave off a collapse, a combo of those has kicked off high inflation, now the US Federal Reserve is forced to hike rates to fight inflation, thus crushing stocks that everyone owns, and a war broke out in Ukraine.
All of that has combined to kick off one of the worst starts to a year EVER for the bond market and one of the worst starts to a year since the 1950s for the stock market. It's super rare to see both of those occur at the same time and yet here we are.
Did anyone predict this on Jan 1? Of course not, the future is unknowable. Does anyone know when the pain will end? Come on, you know the answer to that too.
While unease permeates the room, I do know one thing: it's not different this time with respect to YOU.
Events come and go, markets go up and down, but human behavior persists. The "Trinity of Trouble" is Fear, Anxiety, and Uncertainty and you are probably feeling all three.
Will you allow those to overcome you like it's doing to others?
Let me give you one of the most important pieces of wisdom I know: The last durable edge in investing is arbitraging human behavior.
The ability to be patient is a superpower in a world increasingly focused on the short term. If you can just go about your life, doing the average thing, sticking to your game, and let everyone else do the panicking, you will be successful.
Let me ask you a question: do you want to grow and compound your wealth or do you want to keep interrupting it and falling prey to the same mistakes humans make over and over again?
Everything good compounds. Money, relationships, knowledge, love.
If you constantly interrupt your money because "hey things seem scary right now" you will never succeed.
I loved this image from @visualizevalue because its simplicity is elegant.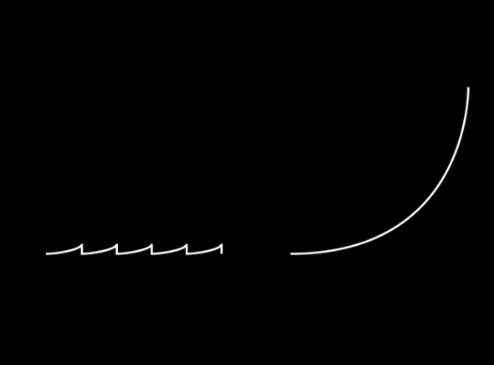 Are you going to start over again every single time the news tells you to be afraid?
Will you fall prey to the mistakes every other investor in the world is prone to or will you forge your own path?
You decide.
MARCH 01, 2022
You're Afraid, Read This.
Something is happening somewhere in the World. The stock market is jittery, headlines seem particularly scary, and now you're afraid and feel like you need to act.
Let's talk about what you should be doing right now:
Control what you can control: Be super focused on this. Savings, spending, sticking to your plan, all of those are directly in your control.
Talk to your advisor about your PLAN, not the market: Ask him or her how your plan is prepared for negative market conditions. It's likely built to expect market corrections which A) happen all the time and B) inevitably end. The plan IS the lifeboat, don't jump out of a lifeboat when you are in icy waters.
Forget about market timing: There is no "good news" or "bad news" with respect to the stock market, it's "better or worse". Stocks don't rally when peace is declared, they rally when things are getting "less worse". Want to know when stocks bottomed in WW2? Right before the Battle of Midway. From then on, things slowly went in the Allies favor after years of going against them. That's why market timing is so hard, you won't know when the news is getting better in real time. Selling and buying back when "things calm down" is a surefire way to lose money.
Don't hedge the unhedgeable: there's no reason to prepare your financial life for nuclear war, money will have no meaning. Don't buy insurance or sell stocks before a meteor hits, you will have no one to collect it from.
Remember the lessons of history: the worst-case scenario has a funny habit of not occurring. Humanity does not splinter in a crisis, it comes together. If the worst-case scenario does happen, see #4.
Take a walk / watch less news: Don't spend your entire day doom-scrolling Twitter or watching the news nonstop, you need a mental break, or it will crush you and have an effect on your health.
Help where you can: If the World is experiencing a traumatic event, donate your time or treasure to helping those in need.
Talk to someone: Are you trying to do this alone? Don't. Friends, Family, an advisor, reach out and talk, humans crave companionship when they are afraid. If you are about to make a mistake with your money and have no one to turn to, give us a ring at Baird and we'll help: http://www.locatebaird.com.
Realize that you are living through normal history: If you could look 10, 15, 20 years into the future you would see crisis after crisis after crisis. History, it's been said, is just one damn thing after another. Once this worry ends, another will replace it. Endure, and in enduring grow strong.
Do Nothing: Humans are wired to act, it's part of our DNA, but ask yourself, is doing nothing an option here? We often think that a problem can be solved with complexity when it can be easily solved with simplicity.
My friend, I know you are worried, but I hope this quick list has calmed you down a bit. Remember, there will always be a reason to sell stocks or hold onto cash because you are afraid.
No one ever said this would be easy, but you need to remember that there is a price for everything. The price you pay for growing your wealth comes from fear, uncertainty, and doubt.
Nothing in life is free, especially not money.
JANUARY 25, 2022
Grind Up And Crash
I said this two weeks ago on Twitter: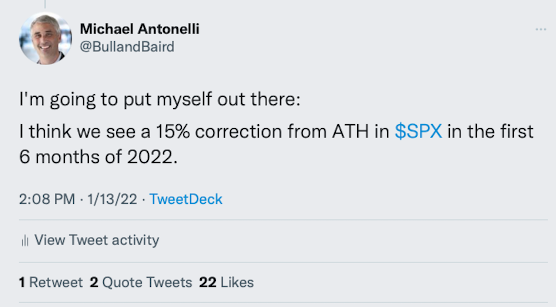 I'll be honest with you, I never expected it to happen in January.
I know you are probably nervous right now, keeping one eye on the market and one eye on your portfolio, but I'm here to tell you, this is just how things are in 2022. "Grind up and Crash" is how you need to be thinking about the stock market going forward.
Stock markets have always risen gradually but selloffs in the past were more deliberate and slow moving than they are now. You didn't find out that your stocks or mutual funds were down until days later in the newspaper.
Fast forward to today and the entire investing world is hyper connected. Markets, data, sentiment, trading, podcasts, blogs, everybody knows everything instantly and they can act on any emotion with the push of a button.
Humans are irrational creatures; they aren't going to take the time to think about their actions when they can push a button and quiet the pain receptor in their brain.
Not only that, large institutions and market makers primarily trade electronically. If they want to sit out a few days (or weeks) things become very illiquid, making stock moves even more dramatic.
Toss in the fact that Twitter, Facebook, and other forms of social media can whip up a panic with endless "sky is falling" disinformation and the recipe for quick market selloffs is complete.
This is how it's going to be from now on, why would it be otherwise?
Stocks are down 10-12% to start the year because of worries about the Fed, and valuations, and too many retail investors, and whatever other reason you want to come up with. Believe me, there's always a reason (click this please).
Do you know what the average intra year selloff for the S&P500 is going back to 1980? -14%. When I called for stocks to fall 15% I just called for the average thing to happen.
My friend Morgan Housel said "all past declines look like an opportunity, all future declines look like a risk".
Do you see the irony in that? If you could go back in time and buy every one of those dips would you? Of course you would. Why is now any different?
Let me tell you a quick story about the biggest winners from the Crash of 2020. Remember that one? It wasn't that long ago.
As people dumped stocks in March, in the midst of a cascading nightmare, there was one entity who stood in and bought regardless of the panic sweeping through the system.
Hedge Funds? Nope. Sovereign Wealth Funds? Nope. High Frequency Traders? Nope.
It was you and me.
Every few weeks, retail investors buy the stock market in long term accounts regardless of what's happening. Why? Because that money is being invested for decades. DECADES. It's been called "the endless bid".
It was us who stopped the selloff in March-April 2020, it was us who reaped the rewards as stocks climbed to new heights in 2021, it was us who managed to ignore the headlines of the day and stay on track.
All of the best investing, the kind that builds real wealth, comes down to two things: time horizons and patience.
If you want to sell right now because you're afraid, ask yourself these questions before you make a catastrophic mistake: Have my reasons for investing changed? Have my goals changed? Has my time horizon for this money changed?
Instead of panicking do this: Rebalance. As stocks fall, and they become a smaller part of your asset allocation, rebalance. After all, if you're not going to "buy low" why bother?
There is a fee you have to pay to earn equity returns and you are paying it right now in fear, uncertainty, and doubt.
Nothing in life is free, especially not money. Understand how markets work and accept that there will never be a time where fear doesn't occupy your brain while investing.
"The man who has anticipated the coming of troubles takes away their power when they arrive."- Seneca